Everything you need to know about building on a slope
What is a sloping site?
A 'sloping site' is a block of land you plan to build on that has an incline, decline, or slopes sideways. The price of a traditional size building lot that is sloping is almost always priced lower than a level same size block in the same area due to the additional costs incurred when building on it. However, on larger parcels of land a sloping block can offer views that increase the value of the site.
Types of sloping blocks
A sloping block can be affected in three ways:

1. Sloping up - the lowest point is at the road
Upward sloping blocks are generally designed to capture views from the front and create an opportunity for impressive elevation and street presence. For upward sloping block house designs, home builders will often dig into the site to construct an undercroft garage, giving you the ability to create a 3-story appearance at the front and 2-storey at the back (or 2-storey at the front with a single storey at the back).
2. Sloping down - the highest point is at the road

In the same way that an upwards sloping block takes advantage of views at the front, building a house on a downward slope takes advantage of gorgeous views at the rear of the block. Down slope house plans often recquiring additional design and approval considerations but consistently result in beautiful, modern homes with outstanding views.
3. Cross fall (side slope) - the land slopes from the right or left of the block
Sloping sites can also slope from the right or left, and when it does, this is called a cross fall or side slope. Home designs characteristically place your garage at the lower level, with staggered floors elevated towards the steeper end.
4. Cross fall + slope up or down - a combination slope
A sloping block with a cross fall combined with an upwards or downward slope is usually the most complex site to build a new home, with specific design compliance and functionality considerations required.
At Wisdom Homes, our stunning split-level home designs cater for up-slope blocks.
Why build on a sloping site?
Finding the right location and block of land is an important part of the building process, and with so many unique blocks to consider, it can be challenging to determine the right block for your needs. The unique style of sloping sites offer several advantages and benefits that make them a great option when searching for your ideal block of land:
Stunning views
The elevation of your home when building on a slope will often give you the ability to enjoy stunning views and beautiful skies that other sites can't quite match. Gorgeous views are usually among the main reasons many home buyers ultimately decide to build on a slope; the site itself is often positioned to capture the surrounding landscape in all its glory.
Natural heat and cooling
The higher up you are, the more sunlight and natural, cooling breezes your home will catch. With appropriate window and door placement, this can help you create an eco-friendly, energy-efficient home that saves you money in utility expenses.
Stunning home designs with creative landscaping
Building on a slope provides an opportunity to create unique floor plans, facades and landscaped gardens constructed over multiple levels. Split-level home designs are architecturally planned to work with the land, rather than against it, to create cascading levels purposefully built to make the most of your unique lot and the natural benefits it offers.
Natural drainage
Building on a slope offers obvious advantages for water drainage; slanted land channels water away, so you're unlikely to experience significant issues with flooding or poor drainage. Additionally, taking advantage of stormwater tanks and drainage corridors will help ensure your site experiences adequate, natural drainage.
What are the challenges of building on sloping land?
The biggest challenges relate to two main factors - the steepness of the slope and the type of slope (upwards, downwards or cross fall) - which can impact several aspects of the building process:
Additional foundation work
Houses on steep sites typically require more concrete, deeper excavation, retaining walls, and specialised solutions for septic systems. The extra labour, machinery, and materials needed to guarantee the house built on a slope is safe and built to high standards often means that costs are higher and construction times longer.
Access to the property
Access to your new block of land during and after construction can be challenging in specific environments. For example, properties in secluded areas or slopes too steep can make it challenging to deliver materials safely, while small property sizes with downward slopes can make designing your new driveway difficult.
The condition of the land
Occasionally, the land being built on may be in poor condition. Testing for high levels of water retention, deep tree roots, and soil properties like clay and sand can introduce additional costs and challenges that will need to be addressed. For instance, a high level of moisture in the soil can risk moisture build-up that dampens and puts pressure on underground walls.
Constructing your home with a builder experienced with sloping sites enables you to overcome many of these challenges. At Wisdom Homes, our award-winning team has been building homes for over 20 years, and knows what it takes to build beautifully designed, contemporary homes that complement unique and irregular sites.
What types of homes are suitable for a sloping block?
Split-level home designs are well suited for sloping blocks, with their design architecturally planned to make the most of the land. At Wisdom, Our three split-level designs - the Ashcroft, Pinnacle and Zenith - all have something unique to offer. The Zenith is a stunning, four-bedroom family home ideal for sloping blocks; the Pinnacle is perfect for maximising coastal views; while the Ashcroft has been designed as an entertainer's delight for hillside blocks.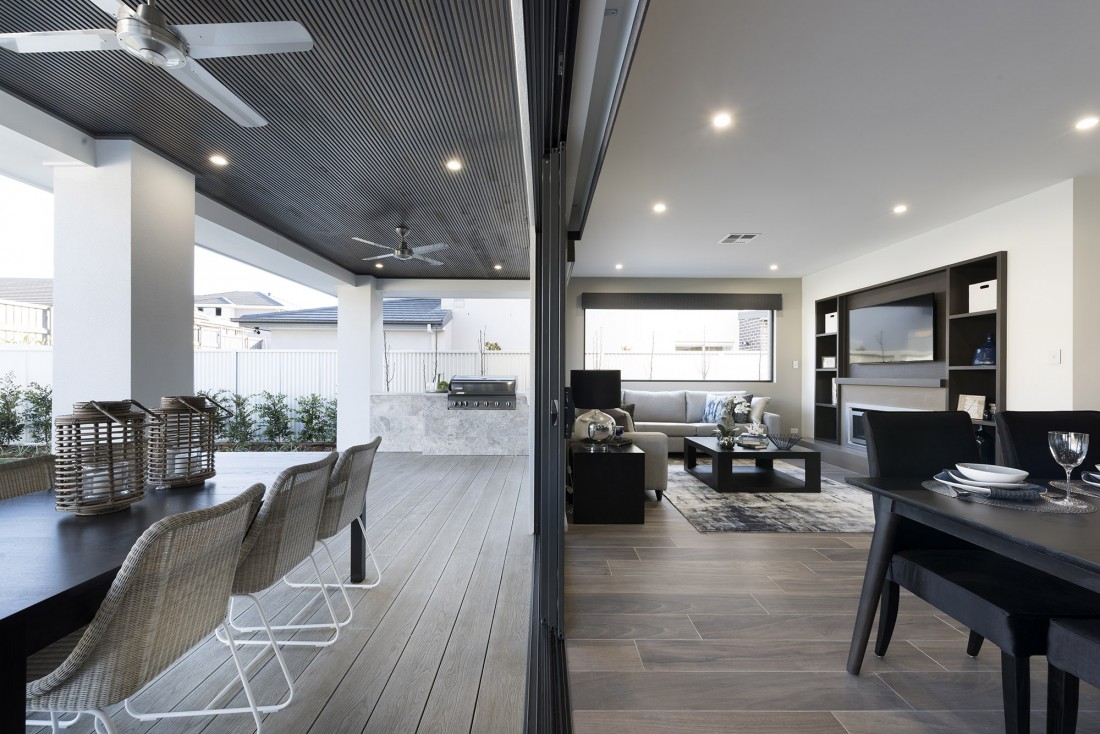 Is it more expensive to build on a slope?
Irregular sites - such as sloping blocks - are often considerably lower priced than regular lots because they present construction challenges that may not be experienced with a level block which will incur additional costs. While sloping land tends to be more affordable, the cost of building is frequently higher. When considering cost and construction, it's possible that with the right sloping block and creativity, you could come out ahead even with a higher construction cost.
The exact cost of building on a sloping block varies widely, but some factors that impact the cost include:
The level of land preparation required to build.

How steep the slope is - generally, the steeper the slope, the more challenging the build will be, with additional labour, foundations and retaining walls required.

The complexity of the slope and whether or not it slopes in a single direction or is a combination style slope.

Additional materials and equipment needed to build, such as excavation machinery and removal of soil.

Drainage and sewage issues - adequate drainage and sewage accessibility from the street or ground level occasionally require pumps and pits that can add to the cost of

building on a slope

.
To learn more about the cost of building on a slope, contact us here or call us on 1300 855 775. Our friendly, industry-leading team can walk you through our process and provide an estimate unique to your needs.
What to consider when building on a sloping block
When building on a slope, you should consider:
Stormwater retention - this could be in the form of a rainwater tank, stormwater pits, rainwater garden, or absorption trenches.

The degree of your slope - this will help determine the

home design

you can build.

Energy efficiency - this could include solar orientation, and the placement of doors and windows to capture natural light and cross ventilation.

The surrounding landscape to make the most of your new view

Earthworks and excavation - you may need to remove or import additional fill and account for excavation to manage the slop of your land.

Retaining walls - these walls are typically required on a sloping site that requires excavation close to the external boundaries.

Removal of rocks and soil - sloping sites that require excavation are likely to need excess soil and rocks removed from the site.

Internal steps and split levels to maintain a level platform and allow transitioning to natural ground level.

Adequate waterproofing of underground supporting walls.

The location of your neighbours to ensure their building isn't compromised during construction.
How long do sloping block approvals take?
The approval process for building on a sloping block differs from council to council but typically takes between 2-6 months. When you build with Wisdom Homes, we'll coordinate all the required building approvals so your build can proceed as quickly as possible.
Why choose Wisdom Homes for a sloping block property?
If you're thinking of purchasing - or already have purchased - a stunning sloping block to build your dream home on, it's essential to talk to a builder experienced with sloping sites.
At Wisdom Homes, our award-winning team has been building homes for over 20 years. Our range of homes have been designed with both form and function in mind to create contemporary homes, pools and landscaping to maximise the way you live.
Enjoy a

25-year structural guarantee

with quality construction and inclusions

Our award-winning team is highly experienced in

building on a slope

Transparent, competitive pricing with no hidden costs

Experience our state of the art design and selections centre,

Canvas Quarter

!

To find out more, contact us.