Splashing Out - The Wisdom Behind Clever Landscaping and Backyard Design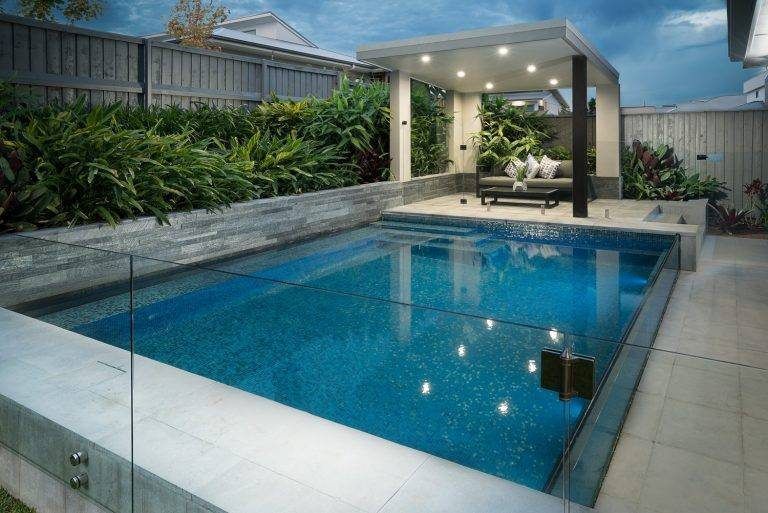 For many home builders, landscaping can seem like an afterthought–something well down the list of their priorities. However, a beautiful new home is like a precious stone, the right setting can enhance its charm and desirability, whilst an ill-suited, badly designed or poor quality one can let it down dramatically.
All new homes are a substantial investment and matching your external spaces with your internal ones can bring a harmonious and seamless transition from the home to the entertainment and garden spaces. Leaving your outdoor areas a barren wasteland or patching it over time can mean you are not optimising your homes value and potential.
Focal Points
Contemporary homes differ over their more traditional counterparts by being less centralised and more focussed on indoor/outdoor living. Glass is strongly featured to highlight green spaces, water features and encourage feelings of light and space.
The garden aspect from the modern home is a central feature, with main living and family areas dynamically relying on outdoor spaces which in turn give energy and colour to complement the indoor spaces.
This means cafe or sliding doors with large expanses of glass allow a panoramic view of the rear of the home. This in turn demands that the back yard should seamlessly link to both the patio and interior of the home.
Cost savings
As with any stand alone renovation or upgrade, waiting until you have settled into your home before thinking about landscaping and backyard design can be far more costly than packaging it up with your housing loan.
Our turn-key solutions mean Wisdom Homes offer competitive pricing on landscaping, pools, water features and structures. This packaging can assist in fast tracking a loan through a lender and can prove more cost effective than doing it as a stand-alone loan.
Swimming Pools and Spas
Whilst swimming pools are not a priority on everyone's wish list, those with families often have them marked as 'one day'. It is worth investigating the cost associated with packaging a pool or spa into your home loan or at least setting in place the groundwork for future development.
Early planning and design of outdoor areas enables infrastructure to be installed to avoid costly retrofits at a later date and access issues to be addressed and catered for.
Future Proofing
Laying the foundation for future and further developments can prevent damaging established gardens at a later date. Water reticulation, electricity conduits and plumbing can all be put in place in expectation of future development – saving you substantial cost and disruption.
Outdoor Kitchens and Entertaining
Blending outdoor entertaining areas with landscaping design is a key factor in creating a seamless and harmonious indoor/outdoor area. Decking, lighting and multimedia inclusions into outdoor structures can make them far more functional and attractive.
Green Living
Wisdom Homes pride ourselves on our ethical home designs and this extends into our landscaping. We prioritise the use of indigenous and drought tolerant plants for both long term aesthetic beauty and to create a more sustainable and eco-friendly environment.
If you are ready to take the plunge into a magnificent new Wisdom Homes House and Land package, consider the convenience and cost effective solutions our turn-key packages offer–designed to have you in the swim sooner…
Call Wisdom Homes today on 1300 855 775 to speak to one of our friendly consultants or visit one of our magnificent Display Centres and discover why Wisdom Homes are Sydney's leading builders of superb, functional homes.