Sleeping Beauty - Turning your bedroom into a sanctuary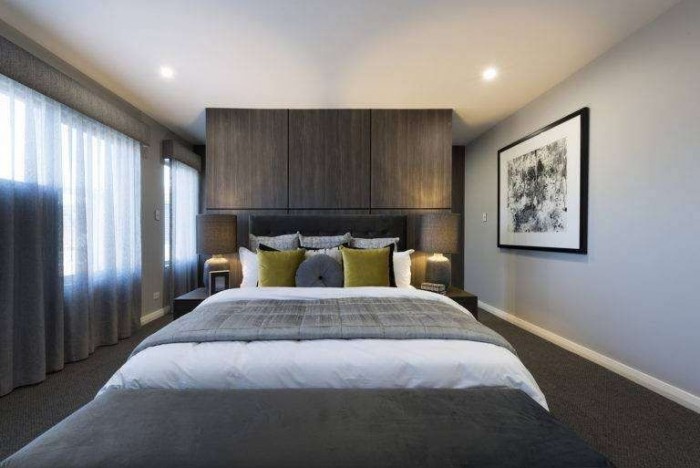 Many of us who grew up in the mid to late 20th century have vivid memories of our parent's room being a dark, cluttered space filled with mismatched wardrobes and definitely no ensuite.
How times have changed! Discerning buyers now expect a master suite which integrates the luxury of spacious walk-in robes, dressing zones, lavish ensuites, parent's retreats and perhaps a study enclave – a far cry from the basic bedroom which once sufficed!
Designing a bedroom you love coming home to, which caters to every desire for privacy, peace, comfort and personal taste, is highly rewarding. Let's review how Wisdom Homes clever designs and strategic floor plans can create bedroom suites which you will never want to leave.
Layout
We will discuss the finer details further on but the basic layout of a master suite may comprise:
Main room with bed
Parent's retreat or lounge area
Full ensuite/pair of ensuites
One or two fitted, walk-in robes with optional dressing rooms
Study or home office
Private terrace and/or balcony
The main room needn't take up a huge amount of floor space but ideally would have double doors to imbue a feeling of grandeur, size and space, along with the convenience of allowing easy access of a larger bed.
With the adequate storage provided by the walk-in robe and wall mounted televisions, the room should be spacious enough to comfortably accommodate a king-sized bed, side tables and a sofa or pair of occasional chairs and a coffee table – yet small enough to retain a feeling of intimacy.
Whilst many people prefer ensuites to be positioned a few feet from the bed for convenience, some may find this disruptive to light sleepers. So too can walk-in robes within the access of ensuites cause privacy and noise issues. If you decide on a single ensuite, consider at least one separate powder room for those inevitable morning emergencies!
Palette perfection
The colour scheme of a bedroom should be designed to encourage restfulness and calm. Research has discovered stress-reducing hues include:
Pale or cool blues and greys
Beige
Soft pinks
Pale yellow-green
Beige-green
Violet
Lavender
Crisp clean whites
Steer away from reds as they have been found to trigger a stress response.
Private terrace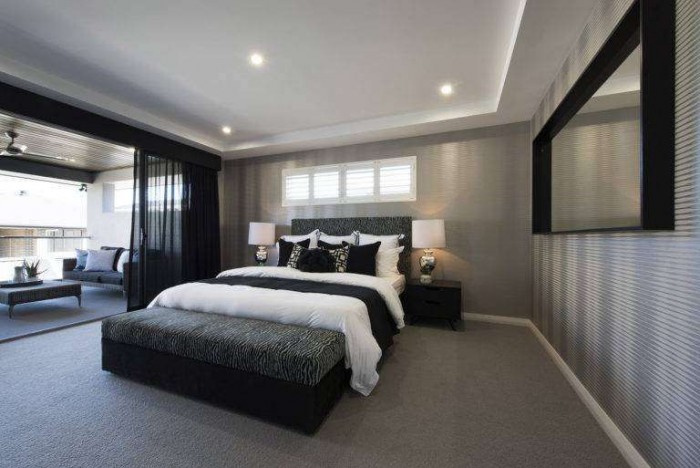 No matter how many living and family areas the modern home possesses, there is no escape so divinely decadent as a glorious terrace adjoining the master suite. This haven makes returning home after a hard day's work one of life's true rewards.
Morning coffees will never be the same, and by incorporating weather and wind resistant blinds and strip heating, this luxury can be enjoyed year round.
Exceptional Ensuites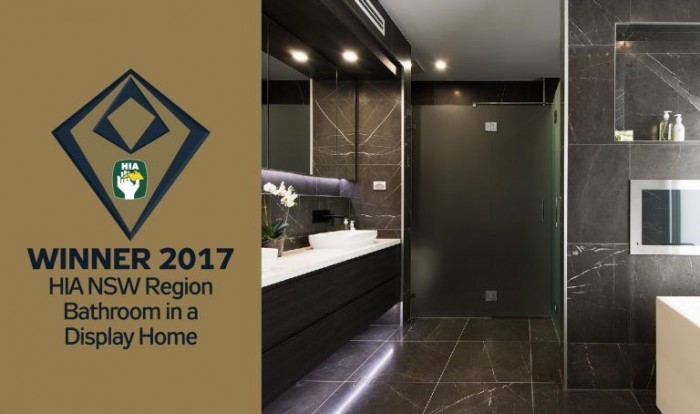 Glass doors in a bathroom encourage natural light flow whilst retaining privacy. Recessed shelves, strategically placed LED under bench lighting and luxe tiling all combine to give Wisdom Homes ensuites a five-star hotel ambience.
Lavish Lighting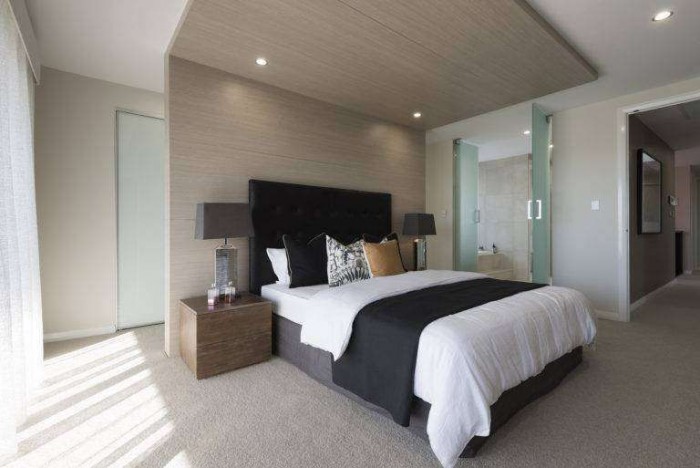 Lighting is one of the most influential features involved in creating a warm and inviting bedroom. Consider the use of skylights in ensuites and walk-ins and dimmer switches in the main sleeping area plus bedside lamps with individual controls.
Automated light filtering and blocking window treatments provide 'touch of a button' control of natural light. At Wisdom Homes, we design everything with a focus on drawing on natural light. Glass is heavily featured in many of our designs to enhance the feeling of openness and space. This includes the option to select opaque glass to ensuites.
Designer Dressing
Designs which place walk-ins, robes and dressing areas to the rear of the bed are gaining popularity. This effect makes a feature of the bed whilst providing a spacious robe/dressing zone without breaking lines or impeding floor plan flow.
The aforementioned features have merely scratched the surface of the ideas and innovations found in Wisdom Homes extensive range. Our vast range of superbly opulent bedroom options will leave you stuck for choice.
At Wisdom Homes, we specialise in home and land packages, knock-down rebuilds and spot build. Visit our website to view our award-winning designs, or call 1300855775 to discover why Wisdom is Sydney's most trusted home builder.