Family fluctuations - how to build a family home for every eventuality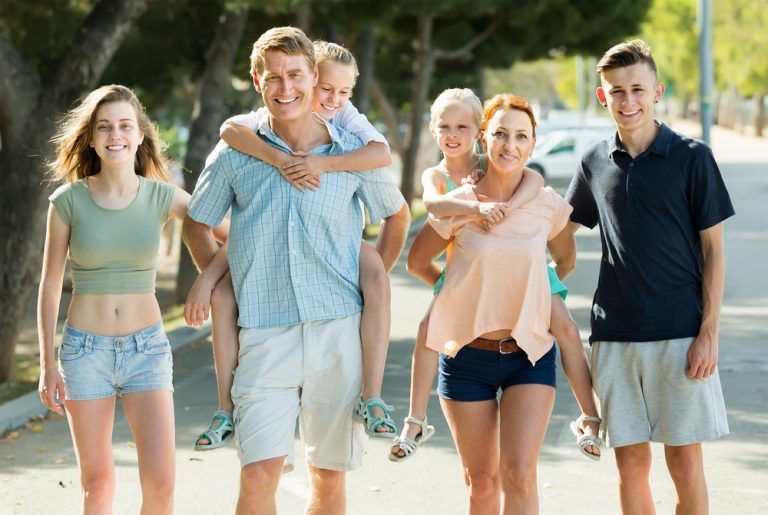 Families are rarely static. Whether young or old, changes come through the natural course of time – each associated with different demands on space, privacy, noise reduction and safety.
For those considering building a forever family home, planning and predicting how your family will evolve over the life of that home can allow you to design and tailor a floorplan which will adapt through the generations.
A unique advantage of building with Wisdom Homes is our flexibility to customise our stunning home designs to optimise your comfort for now and in the future.
Size wise
Deciding how many bedrooms you will require to comfortably house the family will depend on which stage of life you are in – is your family still expanding or is it shrinking? Do you often entertain guests? What will be the needs of extended family members in the coming years?
Creating multipurpose rooms can solve the issue of unexpected eventualities. Designing flexible spaces with bi-fold doors which can be converted to guest bedrooms, studios, dens or simply opened out to extend living areas for large parties, makes your home far more accommodating.
If building a larger home, consider storage requirements for each member of the household. Children tend to churn through toys, clothes, bikes and play equipment and the more you have, the more demand there will be for storage.
Young family
In early childhood, keeping children monitored and safe is paramount. A master bedroom which contains enough space for a nursery which can later be used as a parents retreat makes sense.
Having the capacity to section off these two areas for privacy through double doors, enables parents to monitor baby yet have the benefit of a buffer.
School aged
As children grow there begins a natural shift toward independence. The demands of schoolwork mean study areas and nooks become important. These needn't be a dedicated room but an integrated space fitted with a simple desk and storage.
Study nooks can transform in later years to sewing areas or craft desks.
The teenage years
By the time your children become teenagers and young adults, zoning will become an issue. Noise and privacy control mean consideration should be given to having at least one bedroom on the lower level or zoned well away from the others with an adjacent living space.
The demand for bathroom time may also become an issue. Wisdom's standard inclusion of 6 Star rated gas Continuous Flow Rheem hot water system through all our range from Luxury through to Signature, mean hot water will never be a problem.
The inclusion of ensuites in multiple bedrooms can stem one of the biggest sources of family contention during this period – the fight to use the bathroom. Having a separate toilet to the family bathroom will also ease hostilities surrounding this issue.
Extended family
The period of time where grown children are thinking of leaving the family nest can coincide with older relatives and grandparents requiring more care and perhaps spending more time in your home.
As they become less mobile and stairs become an issue, providing a carpeted, private ground floor suite with private living room can give them a secure yet independent living space.
Retirement
As mentioned previously, a bedroom on the lower level is a wise move, not only to zone teenagers, house guests or provide respite for elderly relatives but to provide an option when stairs become to difficult to navigate as parents move into the retirement years.
In two storey homes, upper levels can be used for visiting guests and grandchildren with the majority of living and cleaning focussed on the lower level.
Great outdoors
Landscape planning for growing families should cater for mixed use for adults and kids, backyard zoning and grassed areas for soft fall play. If your children are currently infants then future proofing the backyard for further additions such as swimming pools should be incorporated at this point and electrical and plumbing services put in place to save upheaval down the track.
The above a just a few ways a home can be designed to adapt to the ever changing dynamics of family life. Contact Wisdom Homes on 1300 855 775 to speak with one of our friendly consultants or visit our website for a comprehensive breakdown of our processes and inclusions. We can provide you with a world of design ideas and tips on bringing your dream family home to life.