Making a Splash - Bathroom design factors to consider
Before the first soil has been turned or the first brick laid, the design of your home must be finalised. This is the only chance you get before the build begins to truly hone what you want; combining all those dreams, ideas and innovations into reality.
Surprisingly, a home's bathrooms along with the kitchen, can the most crucial areas to perfect in your design. For resale value alone, having timelessly beautiful bathrooms which won't date, is vital to ensure they don't let down the rest of the property.
Wisdom Homes are at the summit of cutting-edge bathroom design. We excel at creating sublime wet areas which are not only functional but exceptionally crafted and hard-wearing; adding to the pleasure of living in your new home.
It's all in the detail…
As in life, so too it is in bathrooms – sometimes it's the little things that count. A bathroom with top-end fittings and fixtures, sleek benchtops, gleaming glass surfaces, fine vitreous china and floor to ceiling tiling, will always have the 'wow' factor.
Whether you choose Wisdoms Luxury, Prestige or Signature package for your home design; quality will be in every bathroom, in every build. Our packages all feature superb quality inclusions as standard, such as:
Designer floating vanity units
Tiled shower niches
Caroma mixer taps
Luxury additions to bathrooms such as integrated televisions, waterfall showers, stunning towel ladders and sumptuous tiling can combine to create a haven of peace, tranquillity and beauty – the way every bathroom should feel.
Bath time
The humble bathtub has gone full circle – from classic, freestanding cast iron monoliths, dominating the bathroom floor space, to smaller fibreglass built-in and then back to stunning freestanding features of the modern home.
Bathtubs are a must-have inclusion for any family home but they needn't be merely functional. Wisdom Homes use the stunning Posh Solus range of freestanding baths, due to their sleek, clean lines, innovative design and ability to withstand the harsh rigours of family life.
Naturally beautiful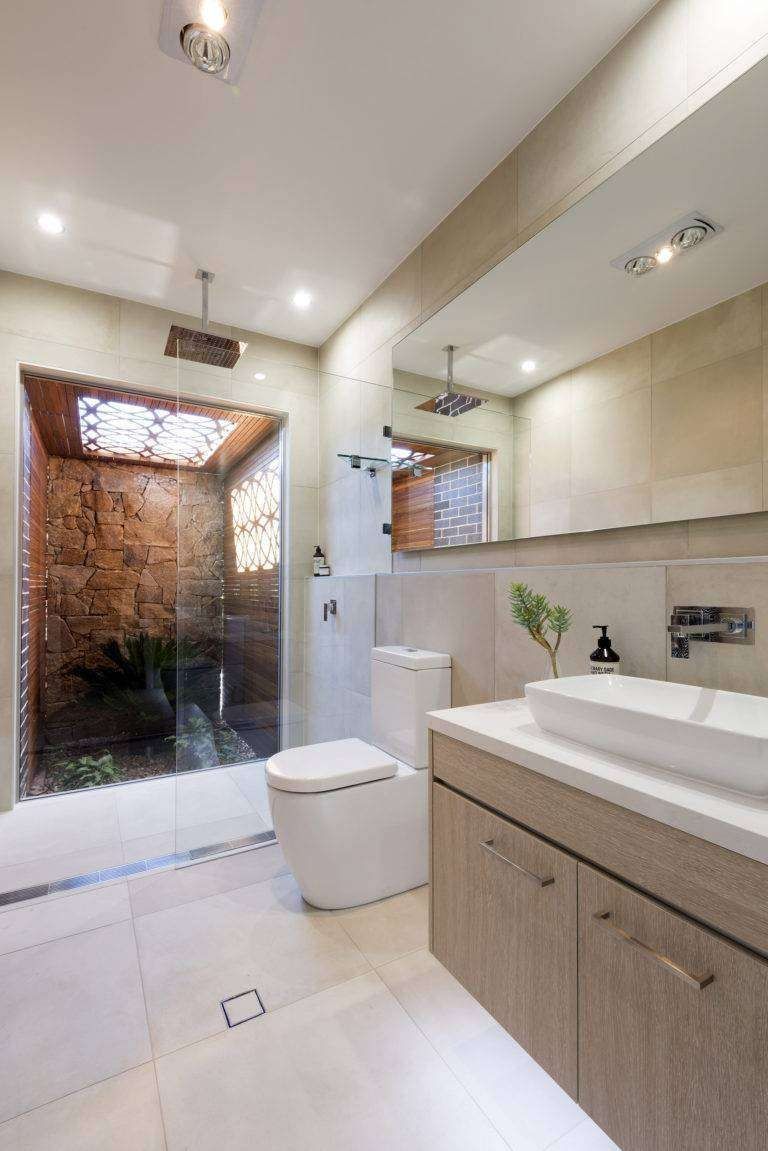 Timber and stone finishes can transform a beautiful bathroom into something truly unique and exceptional. The introduction of natural materials into any area of the home is known to have positive psychological benefits providing a sense of wellbeing. We all love it but are often wary of introducing it into the bathroom or other wet areas.Wisdom has a range of surprising and unique bathroom design ideas for incorporating the natural beauty and benefits of wood and stone throughout the home. Take a walk through our display centres and you will discover why we are multiple award winners for our bathroom designs.
Lighting your life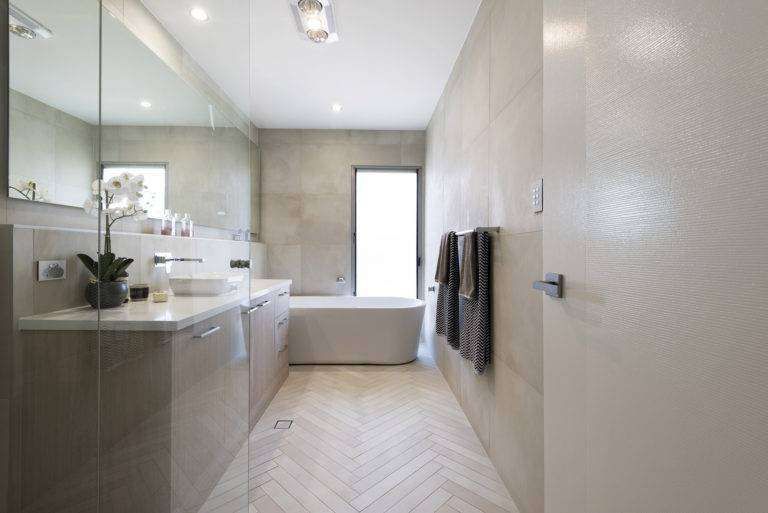 Unlike bedrooms where skylights may cause issues interfering with sleep, skylights in bathrooms can be a dazzling inclusion. Natural light improves our mood and lift our spirits. Concealment issues shouldn't inhibit the entrance of sunlight so Wisdom have designed strategic windows and doors to encourage light whilst maintaining privacy.Wisdom Homes W Gallery puts the power of design into your hands. Working with our team of experienced designers you can create the bathroom of your dreams – incorporating a range of fixtures, fittings and surfaces to make your bathroom a dazzling feature of your home.
fpsy