Innovative kitchen design factors to consider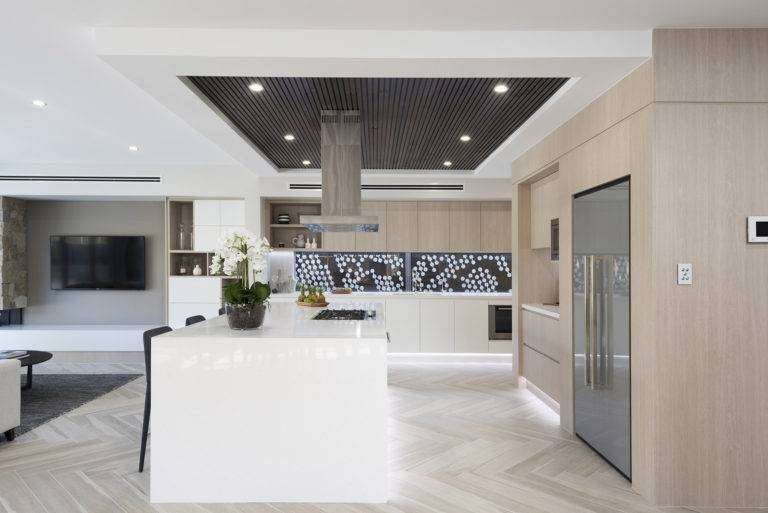 The modest kitchen has undergone an identity transformation. No longer just a back room dedicated to the storage and preparation of food prior to it being delivered into the more auspicious dining room; contemporary kitchens have moved to centre stage – becoming the hub of the family home.
Wisdom Homes are at the cutting edge of this transformation. Their design innovations have developed to provide a versatile, functional and technologically smart space which integrates and flows with entertaining and outdoor areas.
Flow, Functionality and Floor plan
Your kitchen should not merely be about the appliances, cabinets or benchtops. It is also about how these interact to create the most functional and efficient workspace. Lighting – both natural and artificial – must also enter the equation to form a harmonious story.
There is a consensus that the ideal layout for a kitchen should involve the 'V' connection – where sink, stove and refrigerator are within stretching distance of each other and each is within reach of benchtops.
Galley and 'U' shaped kitchens in the modern home are losing favour, giving way to the more open, user-friendly central island, with borderless, broad access around and integrated seating to encourage an atmosphere of magnetic social interaction.
Access to cupboards should be given serious planning time. There is no point in having myriads of overhead cupboards if the cook can't reach them! This is where cleverly designed butlers pantry, prep areas, smart shelving and serving hatches can be incorporated to streamline and enhance both the cooking and the social experience of the kitchen and meals zone.
High Lighting
Strategically-placed downlights and pendant lighting can imbue a luminous, soft warmth to the kitchen area. Their style and placement over the main benchtop workspaces can add drama, charm or artistic appeal.
Under bench, splashback and cabinet lighting takes the kitchen dynamic to a new level. Mirroring and reflecting light off hard surfaces can invigorate a room like no other single feature.
Surfaces
Fancy durable and spectacular stone benchtops? Every level of Wisdom Homes range from Luxury through to Prestige and Signature, include 20mm thick Caesarstone as standard plus designer mixer taps and quality fixtures and fittings.
Flooring should be non-slip, seamlessly flow from other rooms, hardwearing and easy to clean. Complementing flooring with timber finishes ties the package of contemporary elegance together.
Appliances and Fittings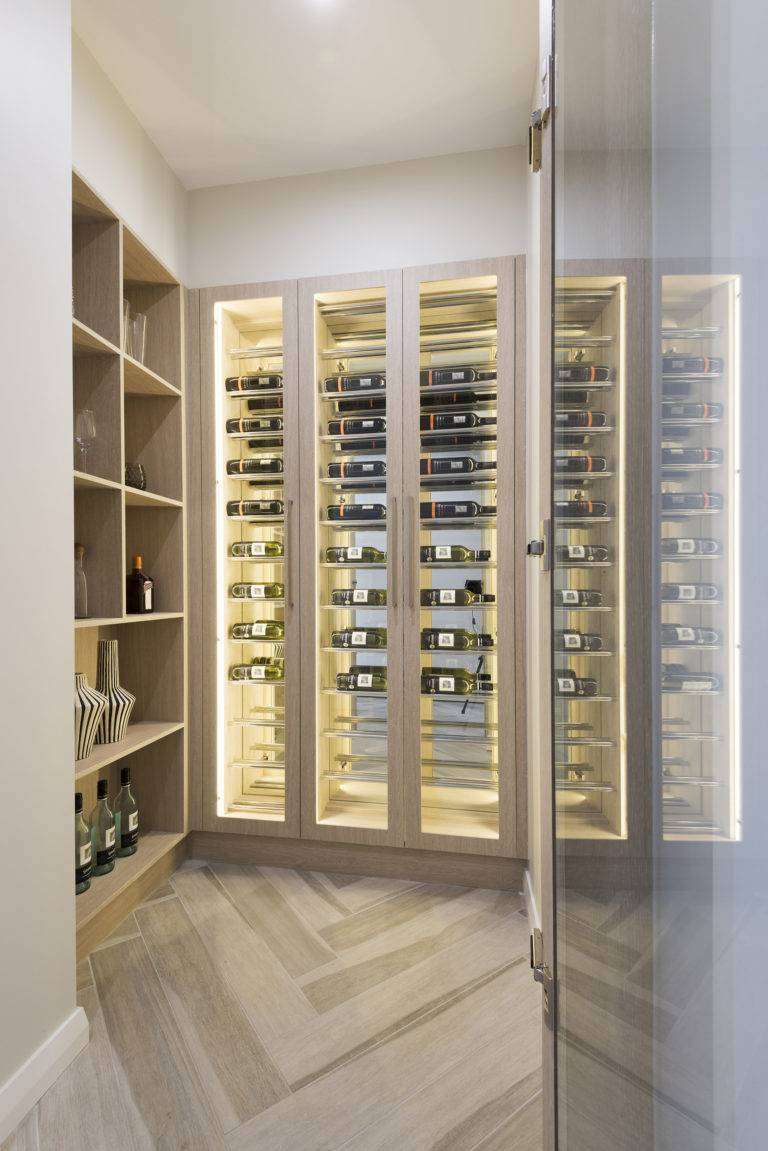 Imagine incorporating the above wine fridge into your kitchen area design, creating both a functional and stunning feature.
At Wisdom Homes, every kitchen from our standard range through to Signature is appointed with stylish, quality European appliances. Integrated refrigerators and dishwasher cabinets are a delightful addition – on the other hand, why hide your stunning appliances?
To get the full details of the amazing quality on offer at every level of Wisdom Homes, click through our impressive range:
So, why choose Wisdom Homes to design and build your dream home? Simply because Wisdom are award-winning builders boasting a slew of credentials, with almost 20 years experience bringing affordable, luxury living to Sydneysiders.
The first step to creating a functional and beautiful kitchen is the design. Begin by taking a walk around one of Wisdom Homes innovative and functional display home kitchens. You will discover a world of ideas which will spur your imagination and whet your appetite.
Take the first step on your journey to spectacular living by calling 1300855775 today, or visit our website and experience the difference a Wisdom Home can make.