How to Build the Home of Your Dreams on a Budget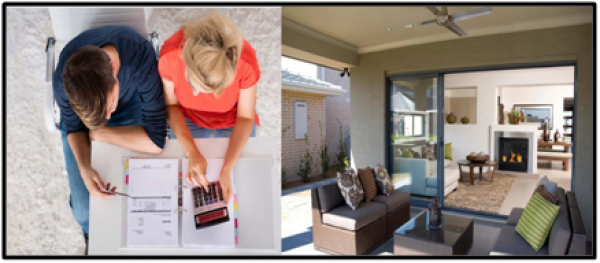 Very few of us will ever be in the privileged position of building a home of your dreams.
The reality is, when it comes to building the home of our dreams, especially our first home, concessions often need to be made to fit in with budget restrictions.
Fortunately, this doesn't have to mean conceding everything on our wish list. With a little creative planning and prioritising, an affordable luxury residence can still be within reach.
At Wisdom Homes, every one of our house designs boasts as standard – luxury inclusions, built without compromise. Even our budget packages have high-quality fixtures and finishes such as tiled bathrooms, European appliances, Caesarstone kitchen benchtops and designer cabinetry!
We are committed to design and build to an exceptional standard of craftsmanship in every home. With that reassurance, let's investigate methods to keep the cost of your build within budget.
Getting your foot onto the property ladder
The NSW government has implemented a range of concessions and grants to make building a new home more accessible to first home buyers. These measures include:
Abolition of stamp duty on all homes up to $650,000 – can mean savings of around $26,000

First home buyers building a new house entitled to a grant of $10,000 for homes valued up to $750,000


Stamp duty relief for homes up to $800,000

$10,000 grant for builders of new homes up to $750,000 and purchasers of new homes up to $600,000

Abolition of insurance duty on lenders' mortgage insurance
Past experience shows us that these grants are often available for limited periods. The time has never been better to take the plunge into the property market!
Cheaper choices
For those purchasing their own block of land, consider awkward blocks for budget buying. Many buyers shy clear of blocks which are smaller, oddly shaped or have easement issues, but working with an experienced house designer can assist navigating around these strictures, saving you many thousands of dollars.
A little planning
Decide which features of your house you consider to be absolute necessities and those you can wait for. It is easy to be diverted by the stunning options offered in a display home but a clinical assessment is crucial to avoid budget blowouts.
Consider these cost saving tips:
Window furnishings – these are not a vital item initially and can be replaced once your budget is back on track

Consider cheaper floor coverings as these can easily be replaced or covered over once you are ready to upgrade

Lights and fittings – again, these can be upgraded at a later stage.
Decide and stick
One of the hidden costs involved in building a home can simply be making changes after the contracts are signed. To avoid delays and extra expense organizes final selections, paperwork, and finance documentation well ahead of schedule.
It may be beneficial for you to read the "Our Process" section of our website. This clarifies how alterations and delays can be prevented.
Going green
When looking to save money in the long term, consider implementing some natural strategies at the design phase to keep your home energy efficient all year round.
A few of these may include:
Harnessing natural light through well a designed floor plan

Installing low energy appliances and heating and cooling systems

Garden reticulation

Low energy light fittings
Government grants and concessions mean there has never been a better time to build your first home. Visit one of our display homes today and talk to one of our knowledgeable consultants. You may just be surprised how affordable our superb quality homes can be.