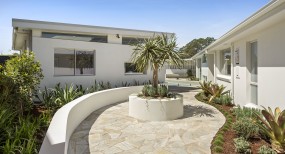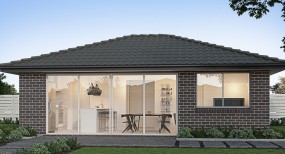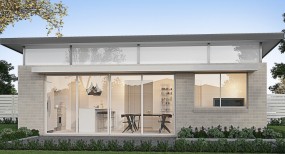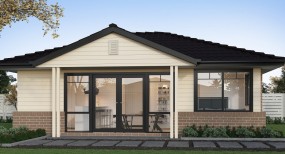 With its design inspired by the traditional beach house, the Seaside granny flat offers the perfect combination of compact indoor/outdoor living.

The spacious covered patio is large enough for a table and chairs and is an ideal spot to sit over a meal. Entering the house off the patio you come into a spacious, light filled kitchen with space for dining. Modern must-haves of a built-in pantry and built-in laundry are integrated into the kitchen while there's rear access to the outside from a kitchen door.

A separate lounge creates a comfortable area to relax. There are two double bedrooms, both with built-in wardrobes and large windows and a separate bathroom with a linen closet opposite.

With high quality finishes, the Seaside is the epitome of relaxed living for downsizers or additional family members.

*Disclaimer - images and facades shown are subject to design and should be used for illustrative purposes only.

**Please note granny flats are only available with a Wisdom Home.
Floorplan
Floorplan Details
Granny Flat Design
Two bedrooms
Wide Kitchen
Outdoor Patio
Lower Floor: 59.97
Porch: 7.44
Gross Floor Area: 67.41m2
Download Floorplan